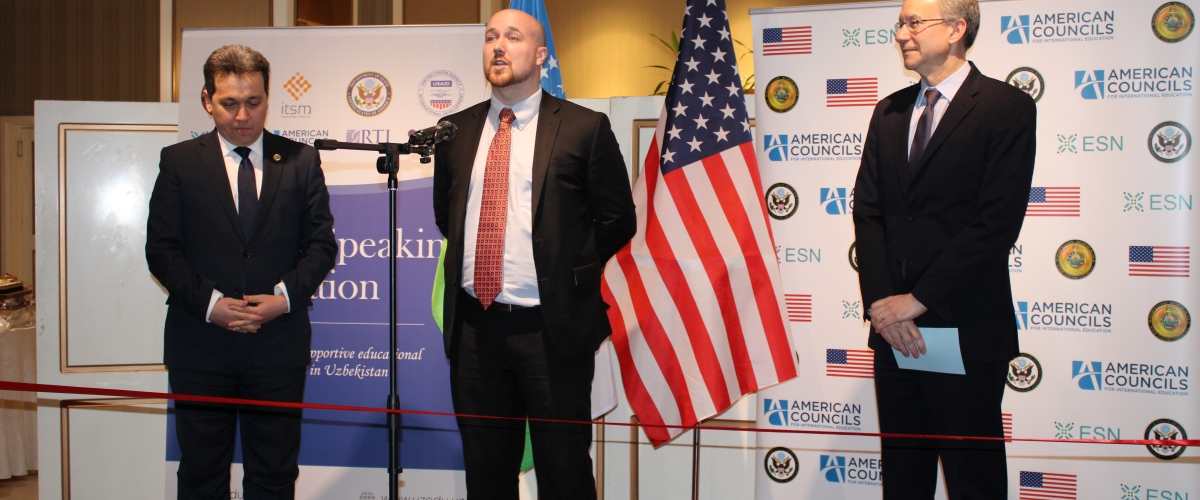 English Speaking Nation: Secondary Teacher Training (ESN:STT) is a program of the Public Affairs Section (PAS) of the U.S. Embassy in Uzbekistan implemented by American Councils for International Education in close cooperation with the Ministry of Public Education (MoPE) that offers an integrated professional development opportunity for English language teacher trainers and secondary school English language teachers in Uzbekistan. ESN:STT improves student skills and knowledge of English by preparing more than 15,000 secondary school English teachers and over 1,000 teacher trainers to use teaching and in-service training practices that improve student language learning.
The goal of the three-year program is to strengthen English language secondary education in Uzbekistan by: 
Improving Uzbekistan secondary school teachers' English language skills with the goal of increased fluency and better use of English in the classroom; 
Improving Uzbekistan secondary school teachers' student-centered pedagogical skills;
Strengthening the positive perception of Uzbekistan secondary school teachers inside and outside their communities; and
Cultivating a supportive ecosystem of teaching and training in order to attain excellence in English language teaching.
The program includes a cascading model that involves the training of trainers, professional development activities for secondary school English teachers, and a mentoring program to build peer support among educators. ESN:STT works with the MoPE in Uzbekistan, regional training centers and other key stakeholders to build a corps of English language teachers and trainers with the student-centered pedagogical skills, language abilities, tools, and the confidence to equip Uzbekistan's youth with the English language skills needed to participate effectively in the 21st century economy.
The three-year program will build English teachers' teaching capacity in Uzbekistan through a phased implementation outlined below: 
Phase I: Two cohorts of 40-45 English teacher trainers per cohort will be selected to participate in a rigorous training program delivered by TESOL International Association (TESOL) and George Mason University (GMU). Each cohort of teacher trainers will participate in: 
TESOL 140-hour Core Certificate Program, including a 20-hour mandatory practicum to be conducted in a secondary school in Uzbekistan;  
Two-week Training of Trainers Institute delivered by TESOL/GMU that includes guided action-planning workshops and site visits to teacher trainers' educational institutions by GMU consultants for observation and feedback purposes. 
Upon finishing the full training course, successful candidates will earn the TESOL Core Certificate and will be inducted into Uzbekistan's Core Teacher Trainers (CTs) Corps. A select number of the strongest CTs may also be invited to participate in additional training and become ESN Master Trainers to assist with the delivery of the TESOL 140-hour Core Certificate Program to their peers.
Phase II: Each Core Teacher Trainer will train and mentor 10 to 12 Regional Peer Mentor-Teachers (RPMs), based on content learned at the Training of Trainers Institute.
Phase III: Under the mentorship and guidance of Core Teacher Trainers, the RPMs will train and mentor 10 in-service teachers a year through the duration of the program with the goal of training 15,000 teachers by the end of the third year of the program.
Throughout program's three phases, the best 300 Regional Peer Mentor-Teachers will have the opportunity to earn the TESOL Core Certificate and become members of Uzbekistan's prestigious Core Teacher Trainers Corps. The Core Teacher Trainers Corps will also develop action plans and training materials that will be recommended to the MoPE for delivering in-service teacher training courses. As the culminating event, the CTs and RPMs will have the opportunity to participate in a regional TESOL conference to be held in Uzbekistan in 2022.