Image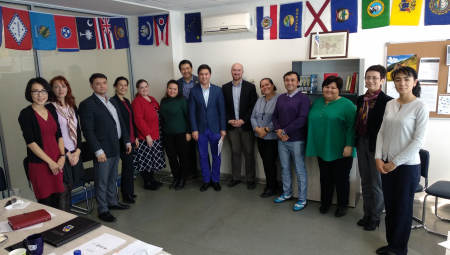 American Councils for International Education is pleased to announce that the English Speaking Nation: Secondary Teacher Training (ESN:STT) program officially launched on November 1, 2019. The ESN:STT program seeks to strengthen the English language and pedagogical skills of secondary school teachers with the ultimate goal of increasing student engagement in English language and culture in Uzbekistan.
Based in both Washington, DC and Tashkent, the American Councils team represents diverse professional experiences and backgrounds. The American Councils Washington, DC office also implements the Teachers of Critical Languages Program and has previously implemented similar programs such as Ed Seminars. Zara Hovhannisyan, Director of Teacher Programs in Washington, DC, has extensive experience in international education and teaching English. The Washington, DC team also includes Robyn Caron, Zoë Kosoff, and Jeffrey Lilley who bring additional international education and language teaching experience. The American Councils Tashkent office also has a strong background in education program management. Program Director Viviana Marcela will join the team on December 2 alongside Program Manager Bumokhira Sulaymanova, who has a decade of teaching experience, Dinara Seytnazarova, Aziza Kuchimova, and Makhliyo Shodieva.
American Councils implements the ESN:STT program in close cooperation with the Ministry of Public Education.