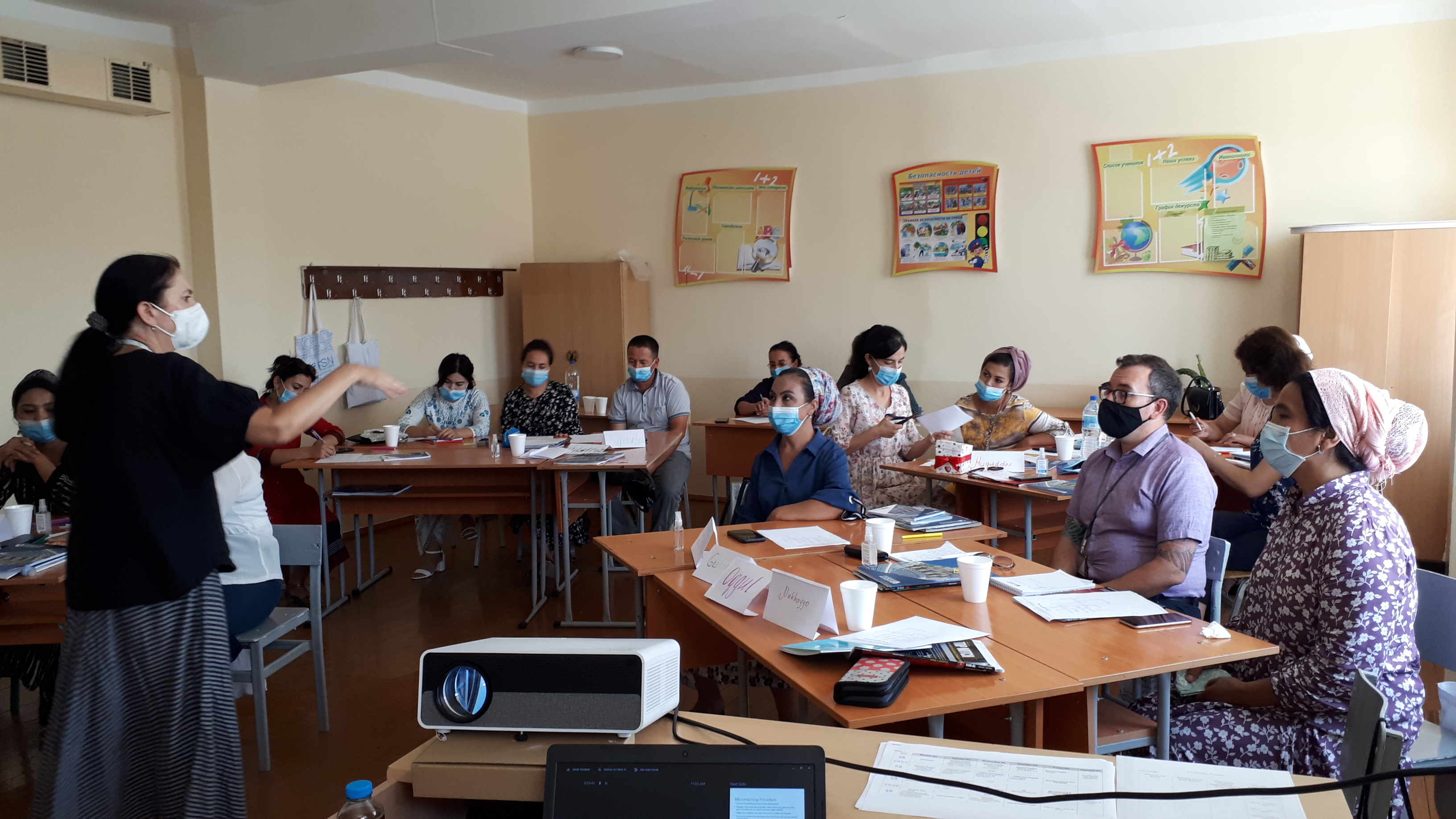 The English Speaking Nation: Summer Excellence Training (ESN: ESET) is a component of the English-Speaking Nation program, a nationwide initiative to strengthen Uzbekistan's English teachers' classroom English language competency and English teaching skills. The purpose of this program is to provide secondary school teachers of English with minimal language skills and opportunity to increase their proficiency, specifically in speaking and listening skills, reflective practice, public presentation, and peer review. The 420 teachers selected for this program come from diverse regions of Uzbekistan such as Samarkand, Andijan, Namangan, Termez, Bukhara, Qarshi, and Urgench  and attended the training at their assigned regions from August 1 – 22 at local public schools and in-service requalification centers.
In particular, some of the most experienced English Teacher Experts – Jesse Conway, Heather Gaddis, Ralph Schusler, Colleen Loboy, Shannon Smith, Juli Sarris conducted the training to 75 school teachers of English in Andijan. The teachers participated in 108-hour English language training that conferred an opportunity to learn thoroughly five areas of focus such as General English, Classroom English, Professional Development, Conversation Time, and Microteaching. These sections were designed to offer teachers practice in the basics of English vocabulary, grammar, speaking, listening, reading, writing, teaching common conversational patterns, practicing spoken English phrases, as well as microteaching demonstrations.  
Tuxtamurotova Oqgul, who works at the school #43 in Bulokboshi district of Andijan region, said: "We would like to thank all the trainers who participated in this project and helped us wholeheartedly. We have learned many great techniques from them that will be useful in the teaching process. ESN summer program gave us a great opportunity for the development of our teaching activities."
Rasulova Iroda from school #48 in Andijan highlighted: "ESN program gave me a rare opportunity to see and feel the American teaching atmosphere. It was just awesome to have classes with experienced trainers who taught us an immense amount of knowledge. With the help of this course, we extended our outlook, learned a lot about American culture and life. We were able to ask different questions about the American terminology and were acquainted with many new words that will be very beneficial in our career. We certainly do want to use the methods that we learned during the course in our lessons."
Heather Gaddis, who was one of the trainers from the U.S., stated: "Overall, I thoroughly enjoyed teaching and learning in the ESET program in Andijan. The participants I worked with were very enthusiastic about improving their English and sharing their culture with me. I also felt supported by my local ESN: ESET coach and coordinator. They both worked diligently to ensure that the program ran smoothly for both the teachers, the participants, and us."
Colleen Loboy, who has over 20 years of experience in the field of TESOL, also shares her impression: "These last three weeks have flown by here in Uzbekistan. Working with public school Uzbek English teachers in Andijan is an honor and truly an experience I will never forget.  The eagerness of the participants to learn English as well as a new instructional methodology has informed what I bring to the classroom every day, and I recognize this as international educational collaboration at its best and most valuable. I feel I have touched the lives of these professional educators, and they have certainly touched mine."
ESN program is funded by the Public Affairs Section of the U.S. Embassy in Uzbekistan and implemented by American Councils for International Education in close cooperation with the Ministry of Public Education in Uzbekistan.