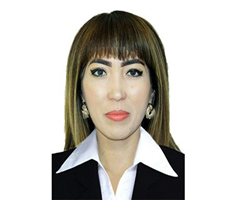 Zuhro Rustamova is currently working in Samarkand as an ESN Coach Counterpart to support ESN Coaches strengthen teacher-training practices and build local language teachers' English skills and teaching competencies. We asked Zuhro a few questions about her background, motivation, and interest in working with ESN Coaches in Uzbekistan. Zuhro shared her opinions and ideas with us, highlighting her motivation.
"I can confidently say that our ESN Coaches know how to motivate EFL learners to learn with pleasure." - Zuhro Rustamova
Prior to joining the ESN program, what educational teaching/teacher training experience(s) did you have in Uzbekistan or abroad?
I have been working at the teacher training center in Samarkand since 2013. Since then, I have taken part in different training seminars (online and offline) to develop teachers' language skills and professional development, such as teacher-preparation training courses in Tashkent. Additionally, I took part in UzTEA (Uzbekistan Teachers of English Association) teacher programs several times. Last year, I held sessions on TV via the program "Professional Development Online" in Tashkent. I regularly take part in different international webinars or online conferences.
What motivated you/prompted you to work in education, either as a teacher or a teacher trainer?
I have 18 years of experience working in the teaching sphere. From childhood, I knew that one day I would be a teacher. For me, it has always been my passion and desire. Someone may graduate from a university or institute and become a good staff member, but in order to be a teacher, you must have talent and a great wish to teach. I have also been inspired by English language speakers. They have inspired me to become a good speaker of the English language also.  Nowadays, I try to motivate my learners to acquire this language and teach them in an enjoyable way.
What do you think is one of the most significant ways in which ESN Coaches can contribute toward developing English language education and teacher training in Uzbekistan?
Certainly, ESN coaches can contribute to developing English language education and teacher training in our country. First, it is a great opportunity for English language teachers to practice the language. Second, it is a great way to learn modern methods. I can confidently say that our ESN Coaches know how to motivate EFL learners to learn with pleasure.
What do you look forward to learning/experiencing with your ESN Coach and as part of the ESN program? How do you think you will grow as a professional in your field alongside your ESN coach?
Without any hesitation, it is a big gain for us to be a counterpart. We are already getting experience with our coaches. I have organized a course with my coach which helps our teachers develop their language skills. In other words, we are giving teachers the chance to improve their English language skills. The next main aim of this course is to apply language in practice. That is why I think we will grow as professionals in our field alongside our ESN coaches.
What are your personal/professional goals that you hope to accomplish while you are an ESN Coach Counterpart?  
As an ESN Coach Counterpart, my personal goals are to develop my language skills and to learn more about teacher training methods from my coach. For my professional goals, I wish to be a responsible counterpart and assist my coach during our program together.
What is the most interesting/surprising thing you have experienced in working with your ESN Coach so far?
It is my first experience of being a counterpart. So far, I like it very much because I am working with a native speaker whose sphere is teaching English to EFL learners. This is a very interesting and motivating side of being a counterpart to my coach. While working with my coach, I'm getting great experience in the field of teaching English based on world standards. I hope to continue to work cooperatively with the ESN program and the ESN team. My coach, Kendra Staley, is so experienced. I'm so happy that I work with her.
Finally, ESN Coach Kendra Staley shared the following about working with Zuhro as an ESN Coach in Samarkand:
I can't say enough wonderful things about Zuhro! She's been fantastic in helping me and my family adjust to life in Samarkand. Not only did she help us find a wonderful apartment, she regularly helps us out with small things - like ordering drinkable water to our apartment and communicating with our landlord if anything needs attention. Aside from this organizational help, Zuhro has adopted us into her family. We regularly spend time with her extended family, celebrating holidays, birthdays, and weddings together. Zuhro really represents how hospitable and friendly Uzbek people are! Of course, she's a fantastic coworker too. Every week, we co-lead teacher-training sessions together at the INSETI Center in Samarkand and she's been fantastic helping me visit different secondary schools in the region. I feel really lucky to have her as my counterpart and friend!
To learn more about the ESN Coaches program, please visit https://www.esn-teachers.org/programs/coaches-program