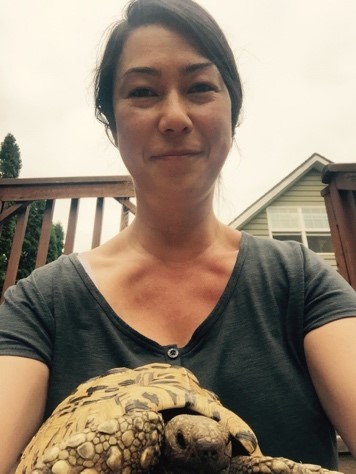 "I think an open mind is one of the most important factors for teachers working toward professional development." - Mina Gavell
Mina Gavell is currently working in Urgench, Khorezm as an ESN Coach to strengthen teacher-training practices and build local language teachers' English skills and teaching competencies. We asked Mina a few questions about her background, motivation for teaching, and interests in Uzbekistan. Mina shared her insights, ideas, and opinions with us, highlighting her thinking and teaching philosophy.
Prior to coming to Uzbekistan, what educational teaching/teacher training experience(s) did you have abroad or in the United States?
I began teaching English in South Korea in 2008 where I worked with middle school students preparing to enter prestigious high schools. I returned to the U.S. in 2010 and began working in an Intensive English Program with international students pursuing business and academic English. I began to shift toward teacher training when I came to Uzbekistan in 2018 as an English Language Fellow. In this role, I conducted numerous workshops and seminars in addition to teaching methodology to pre-service English teachers at the university level.
What motivated you/prompted you to work in education, either as a teacher or a teacher trainer?
To be honest, I loved being involved in education as a student but never wanted to be a teacher. I took my first teaching position as a means to travel abroad. But before long, I realized that I really enjoyed the work. I love that as a teacher and teacher trainer, I get to use both the analytical and creative parts of my brain all while meeting and connecting with individuals. And, I get to help them work toward their goals.
What do you think is the most important factor(s) or skill(s) for teachers to work toward in their professional development?
I think an open mind is one of the most important factors for teachers working toward professional development. Our field is one that is highly impacted by scientific research about cognition, evolving theories of language acquisition, and the changing economy in which our learners will one day participate. We need to be open and able to adapt to these changes. Having an open mind also allows us to be more receptive to feedback about our own practice and therefore willing to continue growing and developing our teaching skills.
What advice or recommendation would you make to young teachers who are just starting their careers?
I would say, take it easy on yourself. You don't have to be perfect. Instead, keep looking for areas and opportunities for improvement and growth. Ideally, we are always looking to refine or improve our teaching practice. It's a process. On the other hand, don't be too easy on yourself. You want to keep pushing and moving forward.
What curriculum, book, course, or resource would you recommend to English teachers in Uzbekistan to refine or strengthen their pedagogy?
I think the OPEN (Online Professional English Network) program (I believe it used to be called E-teacher) is a great course for any English teacher to enroll in. It's an online program and grants are offered through the U.S. Embassy in Tashkent. Participants engage in professional development, get direct feedback from an instructor, and have an opportunity to network with other professionals in their field. Everyone I know who has done it felt they got a lot out of it.
What are your personal/professional goals that you hope to accomplish while you are an ESN Coach in Uzbekistan?
One of my personal goals is to ride a Bactrian (double-humped) camel in the Kyzylkum Desert. Professionally, I'd like to see the teachers I work with do activities with meaningful student-to-student communication.
What is the most interesting/surprising thing you have experienced or learned about Uzbekistan so far?
It's hard to say. This is my third year living here and I still find myself surprised or amazed by something every day. I guess I can say that I'm just so impressed by how motivated so many people here are to learn English and improve their skillset.
Is there any other advice you'd like to share with professionals in the field?
Teachers should push themselves to pursue opportunities. The number one question I get from students is "how can I improve my speaking?" And the answer is "practice speaking more". The number one question I get from teachers is "how can I study internationally?" and I tell them to apply to the numerous grants and scholarships that are out there. All of them who keep applying eventually get something worthwhile and valuable to their professional growth.
To learn more about ESN Coach Mina Gavell and her dynamic teaching background, her full bio may be found here: https://www.esn-teachers.org/users/mgavell